Commercial Indoor Heaters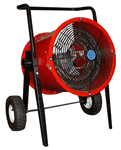 Choosing a commercial indoor heater, relatively speaking should be a simple task. This indoor space heater must be reliable and powerful, yet efficient and durable. We are pleased to offer an elegant selection of electric commercial indoor heaters ranging from heavy duty toolbox heater and blower heaters, to infrared portable heaters. We hope you enjoy our selection and make sure to check out our heater guide if you have any questions.
02110 Fire Sense Stainless Steel Wall Mounted Infrared Patio Heater

Made in durable, weatherproof lightweight aluminum extruded body this infrared patio heater runs on regular household electric current and is substantially less expensive to operate than propane patio heaters. This compact and durable unit produces a 9 ft. blanket of heat, not affected by wind.