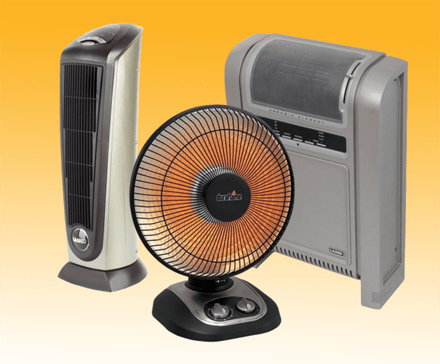 Specializing in Space Heaters we have put together a selection of most popular and economically efficient heaters for your buying enjoyment.
Whether you are looking to purchase an electric space heater as a primary source of heat for your home or a temporary substitute looking through our Heater Guide will simplify your decision making process.
Here at HeaterStoreOnline.com our purpose is to help you buy the best space heater available at an affordable price. Please enjoy your buying experience.
A decorative electric fireplace can be placed along or on a wall, or in a corner and connected to a wall outlet. Our popular electric fireplaces duplicate with uncanny accuracy the actual flames of burning wood. A contemporary electric fireplace provides welcome heat during inclement weather and is much more efficient than running a central heating system when only one room is in use by the family.
SPACE HEATERS
We want you to be familiar with the various types of room space heaters that are available. Our wide selection and low cost electric space heaters make these heaters an attractive means to supply additional heat where needed without turning up the household thermostat, or for heating rooms used occasionally. Listed below are most popular space heater category types and we are glad to offer you a top selection of heaters that are practical as well as reliable, popular but individual in style, efficient and affordable.
Ceramic Space Heaters are radiant heaters costing substantially less than electrical or oil/gas house heating systems with room by room control.
Oil-Filled Space Heaters are lightweight, wheel mounted for easy transport between rooms and look somewhat like standard steam or hot-water radiators.
Wall or Baseboard Mounted Heaters are permanently attached to a wall in rooms where heat is not required all of the time – such as for guestrooms or spare bathrooms.
Infrared Space Heaters use glowing quartz or some other types of metallic element and reflectors to quickly provide heat to a specific area close to the heater rather than to an entire room.
Patio Space Heaters use either propane or electricity to warm outside areas, and are supplied either freestanding or for use on tables.
Garage Space Heaters, wall or baseboard mounted, enable the space to be used by weekend mechanics or as a workshop.
There are many benefits to owning an energy efficient electric space heater. More and more home and business owners are purchasing modern electric space heaters as a solution for saving energy by heating only those areas that require warmth rather than operating the building's central heating system.
Contemporary electric space heaters are safe, energy-efficient and come in a wide variety of types, sizes and styles, as you will see by browsing our website. Purchase a space heater for the bathroom, nursery room or for added heat where children gather to play. In fact, inexpensive electric space heaters can also be used outdoors to warm enclosed patios and porches, extending the use of these areas in the spring and fall.
A popular electric space heater is an electric fireplace, where several options are available either to fit into an existing fireplace or to create one in any room in the house. Another popular space heater is a wall heater for the guest bathroom and bedroom, where heat is only needed when visitors are present.
Once you purchase a space heater you'll soon find how easy and safe these heaters are to use. The electric heating unit requires only a connection to a 115-volt household outlet. The temperature is controlled by a thermostat; units will automatically shut off if accidentally tipped over.
We would like for our HeaterStoreOnline.com store to become your one source for a space heating solution. Take a look at our many models, study our heater guide, and find the heater just right for your requirements. As a token of appreciation for your business, we offer a free gift with a purchase of any space heater or fireplace.