Commercial Heaters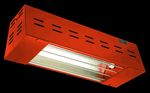 Heating large open commercial spaces such as warehouse stores, "big box" stores and factory outlets calls for a commercial electric heater mounted at strategic locations on ceilings and walls. These efficient commercial electric space heaters are important for customer comfort as well as for sales personnel comfort during cold-weather selling seasons. Comfortable working temperatures also promote efficiencies in manufacturing facilities and assembly lines – a need fulfilled by an industrial electric heater to direct warmth toward personnel work areas. HeaterStoreOnline.com is your reliable source for a wide range of commercial industrial heaters. Browse our selection and make your choice.
Commercial Indoor Heaters

We are pleased to offer an elegant selection of electric commercial indoor heaters ranging from heavy duty toolbox heater and blower heaters, to infrared portable heaters. Indoor commercial heater must be reliable and powerful, yet efficient and durable.
Commercial Outdoor Heaters

Elegant selection of commercial outdoor heaters ranging from electric and propane patio heaters to electric infrared wall mount heaters. These heaters are great for outdoor restaurants or nightclubs/pubs, large warehouses, construction yards.