Commercial Indoor Heaters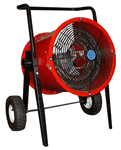 Choosing a commercial indoor heater, relatively speaking should be a simple task. This indoor space heater must be reliable and powerful, yet efficient and durable. We are pleased to offer an elegant selection of electric commercial indoor heaters ranging from heavy duty toolbox heater and blower heaters, to infrared portable heaters. We hope you enjoy our selection and make sure to check out our heater guide if you have any questions.
202SL Qmark Radiant Plug-In Under-desk Heater

This heater is an ideal, commercial, and safe way to provide warmth for cold secretaries, bank tellers, receptionists, cashiers, accountants, architects, engineers – in fact, anyone who sits at a desk, counter or table whether at work or at home!