Vortex Space Heaters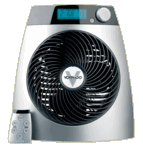 Vortex space heaters operate on the principal of a vortex – or spinning – to circulate heated air. These heaters are possibly the fastest, most efficient and eco-friendly space heaters on the market. They are designed to create a swirling action that directs the heat across the room and throughout its perimeter. This provides pleasant even heating by effectively eliminating colder areas in the room.
Vornado TVH 600 Vortex Home Heater EH1-0036-46

The TVH 600 includes a Smart Remote which intelligently reads and relays temperature to the unit, for a more accurate temperature reading. Includes multi-level safety protection with automatic tip-over protection, non-glowing heat element, and cool touch cabinet.