Electric Garage Heaters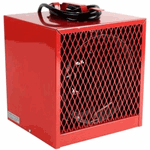 The "garage sale" has been an American institution for years as a means by which families can sell unwanted items to free up space in the garage. Forward-thinking homeowners can turn their newfound garage space into a year-around workspace by insulating the walls and installing electric garage heaters. An electric garage heater can be quickly installed by connecting it to the household grid. Working as an electric space heater these safe, efficient units enable year-around use of the garage to pursue hobbies, repair tools and protect contents from potential damage due to seasonal temperature swings.
202SL Qmark Radiant Plug-In Under-desk Heater

This heater is an ideal, commercial, and safe way to provide warmth for cold secretaries, bank tellers, receptionists, cashiers, accountants, architects, engineers – in fact, anyone who sits at a desk, counter or table whether at work or at home!