Infrared Patio Heaters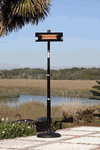 Electrical infrared patio heaters use glowing quartz, halogen bulbs or other types of metallic elements to generate infrared heat. They are ideal for outside use because their function is not to warm the air, which is the task of convection heaters, but people and objects. Imagine yourself on the patio, terrace or at poolside with friends and family taking in the last rays of the setting sun. A breeze springs up, just enough to be uncomfortable. But instead of being forced inside you continue enjoying the great outdoors by turning on your infrared patio heaters. How pleasant it is when these radiant heaters warm all that fall within their radiant glow as the moon rises in the east.
02110 Fire Sense Stainless Steel Wall Mounted Infrared Patio Heater

Made in durable, weatherproof lightweight aluminum extruded body this infrared patio heater runs on regular household electric current and is substantially less expensive to operate than propane patio heaters. This compact and durable unit produces a 9 ft. blanket of heat, not affected by wind.