Mounted Patio Heaters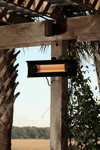 Mounted patio heaters deliver directed infrared heat that warms people, pets and objects without warming the air. Wall-mounted patio heaters are typically placed where family and guests congregate to enjoy outdoor living when the weather starts to cool. Outdoor mounted patio heaters can be installed on overhead trellises, archways, in gazebos, pool houses, and on porch ceilings or walls. Indoor mounted patio heaters are used in enclosed entertainment or recreation rooms and can also be used in garages, workshops or unheated basements.
02110 Fire Sense Stainless Steel Wall Mounted Infrared Patio Heater

Made in durable, weatherproof lightweight aluminum extruded body this infrared patio heater runs on regular household electric current and is substantially less expensive to operate than propane patio heaters. This compact and durable unit produces a 9 ft. blanket of heat, not affected by wind.