Infrared Space Heaters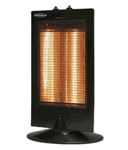 Infrared heat is like the heat you feel when standing in direct sunlight. Infrared space heaters use glowing quartz or other types of metallic element and reflectors. They are ideal to quickly provide heat to a specific area close to the heater rather than to an entire room. Like ceramic heaters, electric infrared heaters are often used to supplement central heating by providing added comfort to infants or the elderly without turning up the household thermostat. They can also be used during seasonal changes to help save on energy bills.
Blue Rhino EWTR720SP "Northgate" Patio Heater

Elegant and durable, this heater is built with weather resistance hardware and stands 34.6″ tall. It uses 1,200 W halogen bulb and features Automatic Shutoff Tilt Switch, designed for the safety of your home.