Vortex Space Heaters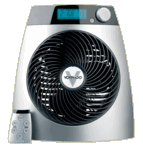 Vortex space heaters operate on the principal of a vortex – or spinning – to circulate heated air. These heaters are possibly the fastest, most efficient and eco-friendly space heaters on the market. They are designed to create a swirling action that directs the heat across the room and throughout its perimeter. This provides pleasant even heating by effectively eliminating colder areas in the room.
Holmes HFH105UM Ceramic Utility Heater

This compact Holmes Products Ceramic Utility Heater features convenient cord wrap system and integrated carry handle, making it easy to move around and store. Other features include Automatic Shut-Off switch, Power Indicator, heat and fan settings.